Jean W Lapointe
, 50
Spring Valley, NY
Jean Lapointe Phones & Addresses
Spring Valley, NY
Garnerville, NY
Florence, SC
Mentions for Jean W Lapointe
Resumes and CV
Resumes
Business & Organization Records
Name / Title
Company / Classification
Phones & Addresses
Jean LaPointe


Treasurer

Kinfolk Kreations Ltd.
Craft Galleries. Copy Centers
1705 - 20 Avenue, Coaldale, AB T1M 1M3
403-3454505, 403-3456743
Jean Lapointe


President

Investment Lapointe Inc
Jean Lapointe


Owner

Curlys Lunch
328 E 14 St, New York, NY 10003
Jean Lapointe


Treasurer

Kinfolk Kreations Ltd
403-3454505, 403-3456743
Jean Lapointe
LAPOINTE COACHING & CONSULTING, LC
Jean Lapointe
BROOKLYN BURRITO, INC
262 Vanderbilt, Ny, NY
262 Vanderbilt Ave, Brooklyn, NY 11205
Jean Lapointe
CENTER FOR HEALING THE EXECUTIVE SPIRIT
Jean Lapointe
ONE HEN TWO DUCKS INC
246 E 14 St, New York, NY 10003
Jean Lapointe 262 Vanderbilt Ave #2, Brooklyn, NY 11205
262 Vanderbilt Ave #2, Brooklyn, NY 11205
Publications
Wikipedia
Jean Lapointe
Jean Lapointe, OC, OQ (born December 6, 1935) is a Quebecois actor, comedian and singer as well as a former Canadian Senator. Lapointe began his stage ...
Amazon
Pleurires (French Edition)
Publisher:
Editions de l'Homme
Pour notre plus grand plaisir, Jean Lapointe raconte les moments forts qui l'ont conduit à revêtir les costumes de scène les plus divers, à créer les personnages les plus différents, à parcourir, avec la retenue et la pudeur des grands sensibles, le registre sans fin des émotions humaines. Imitateur...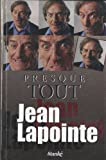 Presque Tout Jean Lapointe (French Edition)
L'ordre Et Le Désordre
Author:
Victor Pereira Da Rosa & Jean Lapointe
Publisher:
LINCOM publishers
L'objectif central de cet ouvrage est de fournir aux étudiants et étudiantes en anthropologie politique un outil pédagogique qui, à notre avis, vient combler un vide dans l'enseignement supérieur en langue française. Ce volume est l'aboutissement des expériences didactiques des auteurs qui, depuis l...
Isbn (Books And Publications)
Presque Tout Jean Lapointe
NOTICE: You may not use BackgroundCheck or the information it provides to make decisions about employment, credit, housing or any other purpose that would require Fair Credit Reporting Act (FCRA) compliance. BackgroundCheck is not a Consumer Reporting Agency (CRA) as defined by the FCRA and does not provide consumer reports.