Professional Records
Real Estate Brokers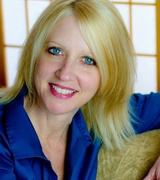 Kathryn Newman
Specialties:
Buyer's Agent, Listing Agent
Work:
The Platinum Group, Realtors
6760 Corporate Dr.
719-3307605 (Office)
Description:
Known for her humor and high energy approach to marketing, Kathryn Newman, licensed as an Employing Broker since 1996,offers her clientsyears of integrity, excellence in customer service and commitment to follow through. She has consistently been a multi million dollar producer and continues to provide relevant options that bring results for buyers and sellers.With a college background in Music and Communications/Public Relations and a Graduate of Sheffield School of Interior Design,Kathryn understands that creativity and Real Estate often go hand in hand. "The needs and wants of buyers and sellers change in various types of markets, so having a creative mind-set is the key to my clients experiencing successful results."Formerly from Virginia, Kathryn moved to Colorado Springs from North Carolina in 1993 and has a blended family of two boys and two girls. Her husband Ted, also a licensed REALTORS®, maintains the technical aspects of the business, making sure that their business model is always on top of the latest, cutting edge technology. "Since we live in a fast-paced, ever changing world, it is imperative that we stay a few steps ahead of the latest market technology in order to position our buyers and sellers in the most favorable place to have the winning edge over the competition."With a dedicated team of professionals working in harmony with The Newman's, every detail from large to small is taken care of to ensure a smooth transaction and a positive buying or selling experience. The goal of becoming your 'REALTOR® for Life' is achieved by developing long term relationships and building a referral based business that keep buyers and sellers coming back for their innovative real estate expertise again and again.When it comes to something as important as buying or selling a home, you need a team of professionals working on your side that is as passionate about your transaction as you are.Offering Design services to preparea home for sale or simply staging a home to sell, Kathryn offers more for your listing! Call Kathrynif you want fresh ideas, options and aggressive marketing and negotiating skills. Whether you're buying or selling, Your Home is Our Passion.
Medicine Doctors
Kathryn A. Newman
Specialties:
Family Medicine
Work:
Blue Ridge Family Physicians
2605 Blue Rdg Rd STE 300, Raleigh, NC 27607
919-7873448 (phone) 919-2320006 (fax)
Site
Languages:
English, Spanish
Description:
Ms. Newman works in Raleigh, NC and specializes in Family Medicine. Ms. Newman is affiliated with Rex Hospital.
License Records
Kathryn K. Newman
Licenses:
License #:
3809
Category:
Licensed Specialist Clinical Social Worker
Kathryn K. Newman
Licenses:
License #:
5646
Category:
Licensed Masters Social Worker
Kathryn K. Newman
Licenses:
License #:
5990
Category:
Licensed Bachelor Social Worker
Kathryn K. Newman
Licenses:
License #:
3809
Category:
Licensed Specialist Clinical Social Worker