Walter F Lantz
Deceased
4609 Eagle Trl, Mishawaka, IN 46545
Walter Lantz Phones & Addresses
4609 Eagle Trl, Mishawaka, IN 46545 574-2725877
South Bend, IN
Edwardsburg, MI
Mentions for Walter F Lantz
Publications
Wikipedia
Walter Lantz Productis
Walter Lantz Productions was an American animation studio. It was in operation from 1929 to 1949 and then 1950 to 1972 and was the principal supplier of...
Walter Lantz
Walter Benjamin Lantz (April 27, 1899 March 22, 1994) was an American cartoonist, animator, film producer, and director, best known for founding Walter...
Amazon
Woody Woodpecker And The Meteor Menace (Big Little Book)
Author:
Walter Lantz, Don Christensen
Publisher:
Whitman Publishing Company
Woody Woodpecker first appeared in an Andy Pada cartoon called Knock, Knock (released on November 25, 1940). He was created by Walter Lantz and his artists in an attempt to provide a foil for Andy. The woodpecker was garish in design-a blue back, red front, yellow beak and feet, and purple/green eye...
Walter Lantz: Made Famous By A Woodpecker (Legends Of Animation)
Publisher:
Chelsea House Pub (Library)
Ten-time Oscar-nominated Walter Lantz was one of Hollywood's most prolific directors and producers of animation. Over six decades, his studio produced more than 800 cartoons, including over 600 theatrically released cartoons, more than any other Hollywood animation studio, an...
Cartoon Carnival: A Critical Guide To The Best Cartoons From Warner Brothers, Mgm, Walter Lantz And Depatie-Freleng
Author:
Michael Samerdyke
This book provides critical commentary on cartoons made by Warner Brothers, MGM, Walter Lantz and DePatie-Freleng between 1933 and 1976, covering cartoons "starring" Bugs Bunny, Tom and Jerry, Woody Woodpecker and the Pink Panther among others.
Walter Lantz New Funnies #121
Author:
Walter Lantz studio
Funny Animal Comics Andy Panda Woody Woodpecker Oswald the Rabbit Li'l Eight Ball
Walter Lantz New Funnies #109
Author:
Walter Lantz studio
Walter Lantz New Funnies #107
Author:
Walter Lantz studio
Woody Woodpecker Shoots The Works ( Walter Lantz )
Publisher:
Whitman / Western Publishing Company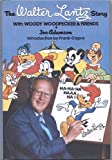 Walter Lantz Story With Woody Woodpecker And Friends
Isbn (Books And Publications)
NOTICE: You may not use BackgroundCheck or the information it provides to make decisions about employment, credit, housing or any other purpose that would require Fair Credit Reporting Act (FCRA) compliance. BackgroundCheck is not a Consumer Reporting Agency (CRA) as defined by the FCRA and does not provide consumer reports.