Eric E Wachter
, 47
7970 Homestead Acres Rd, Lake Adelle, MO 63016
Eric Wachter Phones & Addresses
7970 Homestead Acres Rd, Cedar Hill, MO 63016 636-2859543
Mentone, CA
1911 Westbourne Way, Fenton, MO 63026 636-3263150
Coram, NY
Social networks
Mentions for Eric E Wachter
Public Records
Vehicle Records
Eric Wachter
Address:
7970 Homestead Acres, Cedar Hill, MO 63016
Resumes and CV
Resumes
Publications
Amazon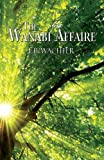 The Wanabi Affaire
Publisher:
America Star Books
John Emson became involved in a case that initially seemed simple and straightforward. The black ex-cop is after the perpetrators on the attack of Derrel Demeester. Emson soon discovers a connection between the death of Demeester and Wanabi, an area in the deep interior of Suriname. Initially all tr...
NOTICE: You may not use BackgroundCheck or the information it provides to make decisions about employment, credit, housing or any other purpose that would require Fair Credit Reporting Act (FCRA) compliance. BackgroundCheck is not a Consumer Reporting Agency (CRA) as defined by the FCRA and does not provide consumer reports.